So, what is the appeal of an outdoor kitchen in the Memphis area?
We'll be answering that question and more in this article. We're going to take a look at all of the amazing benefits of outdoor kitchens, why they're worth the investment, different customization options, and some great design ideas.
More than likely, you have heard about the rising trend of outdoor kitchens in the Memphis area. Or, maybe you know someone who has had one of these amazing outdoor living spaces installed in their own backyard. Either way, outdoor kitchens have been a growing trend in Memphis over the past several years, especially due to the COVID pandemic. One good thing to come from it is that people have been spending more time outdoors. And, as we enter 2023, the outdoor kitchen trend is expected to keep growing too. In fact, Better Homes & Gardens named it the top outdoor living trend in 2021 and 2022.
Outdoor Kitchens: Why They're Worth It
Outdoor kitchens in Memphis have a multitude of benefits, even long-term ones. Let's take a look at some obvious (and not so apparent) reasons everyone is falling in love with outdoor kitchens and their features.
An outdoor kitchen can significantly increase the value of your home.
If you ever decide to sell your home, you'll find that the addition of an outdoor cooking space can garner you a significantly higher asking price. Still not convinced it's worth the investment? Consider this: "A study from Absolute Outdoor Kitchens found homes with an outdoor kitchen see an ROI (return of investment) of between 100% and 200% than homes without."
Outdoor kitchens extend your living space and functional outdoor area.
Homeowners are no longer content with being cooped up indoors. Outdoor kitchens provide a space that's as functional as your indoor kitchen. And, since most people set up an outside dining area nearby, you're creating extra living space as well to spread out and get some fresh air. This brings us to our next point…
You're more likely to utilize your outdoor living space.
Let's face it: Most of us probably have a corner of our yard that we don't really use for anything. Or, maybe you have a really killer backyard, but find yourself not out there enjoying it much for whatever reason. Whatever the case may be, it would be hard to resist the temptation of cooking outdoors when you have a convenient setup in place. Outdoor kitchens are a great way to take advantage of nice weather.
Outdoor kitchens make outdoor entertainment much easier.
Whether it's just a low-key family dinner night, a large get-together with family and friends, or even the annual neighborhood BBQ, an outdoor kitchen make things easy and convenient.
Outdoor kitchens are surprisingly versatile in design and placement for your Memphis area home.
Patios and decks are obvious starting points for an outdoor kitchen. But with some creativity, you could even have one installed in a sunroom, enclosed porch, or even a pool house. And, with smart design and wise planning, a small yards is no longer an obstacle for having a great outdoor kitchen space.
You can start basic and expand later.
Worried that your dreams are bigger than your budget? Start with the basics and plan to expand as you can in the future.
Outdoor kitchens can save you money.
Cooking indoors can quickly heat your house. In the summer, this means the A/C will kick on. By cooking outside more, you're actually helping to keep your utility bill down!
It's easy to see why outdoor kitchens have become so popular. Equal to their growing popularity is the options available to ensure you get the perfect custom outdoor kitchen for your home.
The Limitless Customization of Outdoor Kitchens
Between built-ins and a large selection of pre-fab items to choose from, outdoor kitchens are the ultimate hardscape in customization. You can get just as creative with these as you can with indoor ones, if not more so since you're not confined to specific parameters. That said, let's take a closer look at all of your options.
Grills and Other Cooking Mechanisms
More than likely, the first thing you'll want to decide is what type of power you prefer for your grill such as traditional charcoal or natural gas. Or, you could also opt for a pellet-burning grill or a sleek, electric flat-top unit. The latter offers even more cooking options.
Pizza ovens or wood-burning ovens are also a popular addition to outdoor cooking areas. And, if you love smoking meat or would like to get started doing it yourself, it makes sense to splurge on a smoker too. Who doesn't love some brisket or pulled pork in Memphis.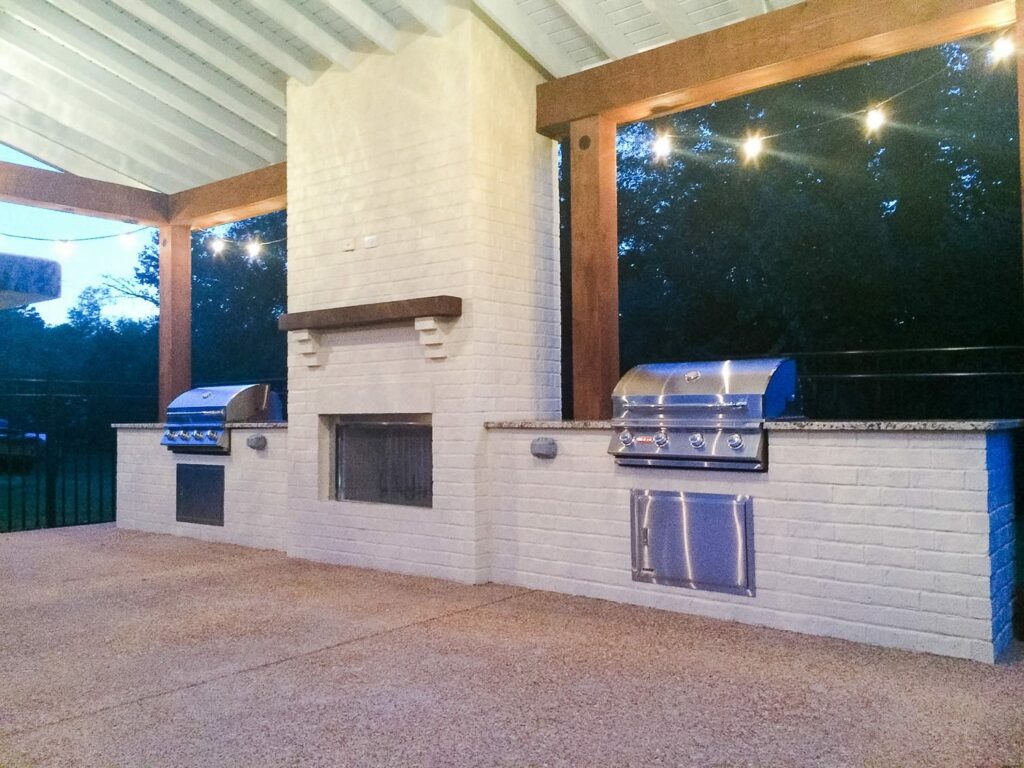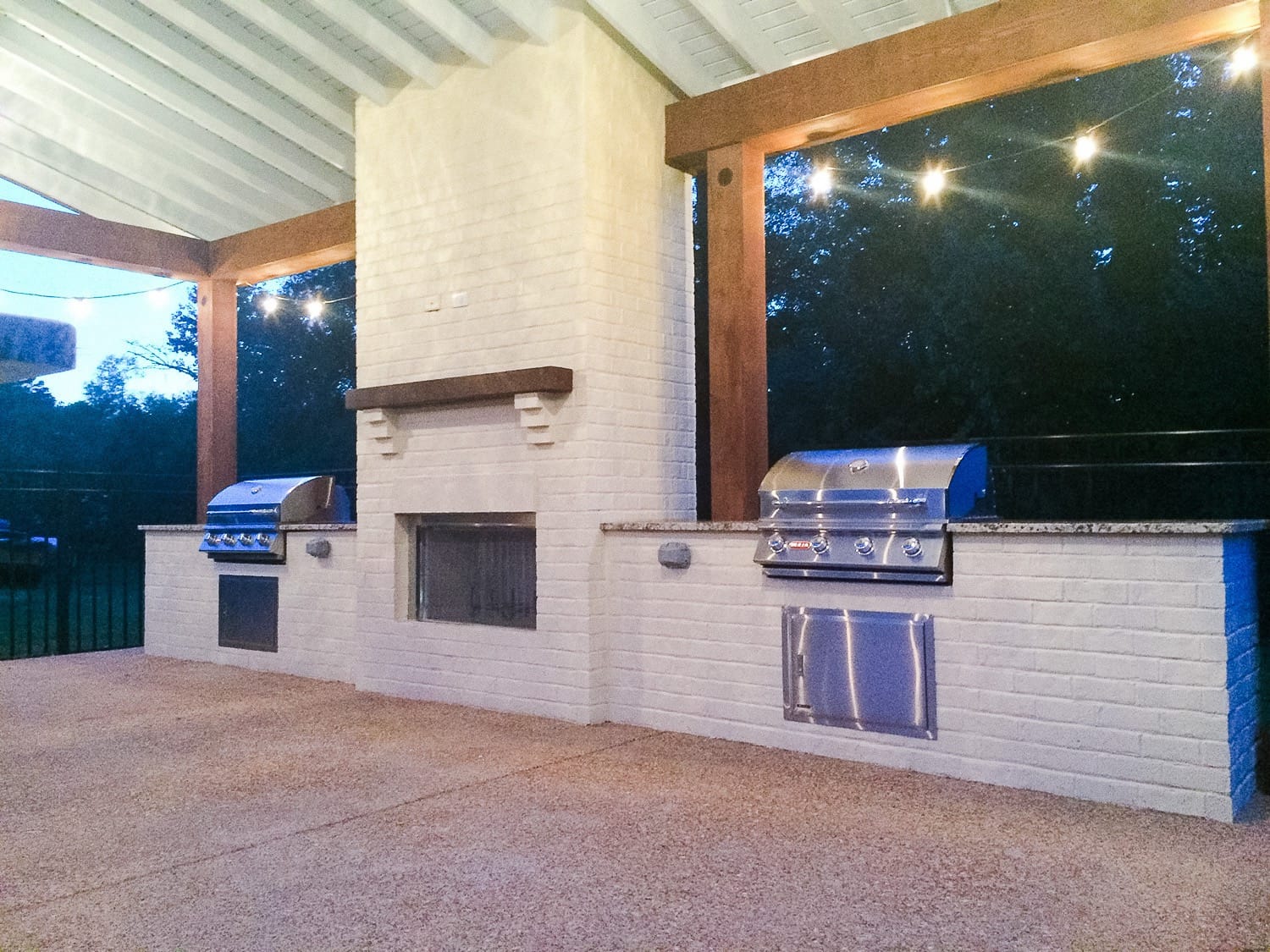 Storage, Countertops, and More
Of course, an outdoor kitchen isn't terribly convenient without at least a little bit of counter space and storage. This makes food prep a lot easier. Most outdoor kitchens we install in Memphis are designed with storage cabinets in mind that have ample room for utensils, plates, spices, sauces, and more, eliminating the need to run back and forth between your indoor kitchen and your outdoor one! If you don't like the look or don't have the space for a row of cabinets, you can opt for an island instead.
For even more convenience, consider the addition of a sink in your setup. It leaves you with one less step in clean-up (not having to run back and forth taking dirty dishes inside), allowing you more time to enjoy the outdoors and the company of your friends or family.
Refrigerators are yet another option, whether full-size or mini. Simply stick your ingredients in there ahead of time and you're ready to go once it's time to get grilling!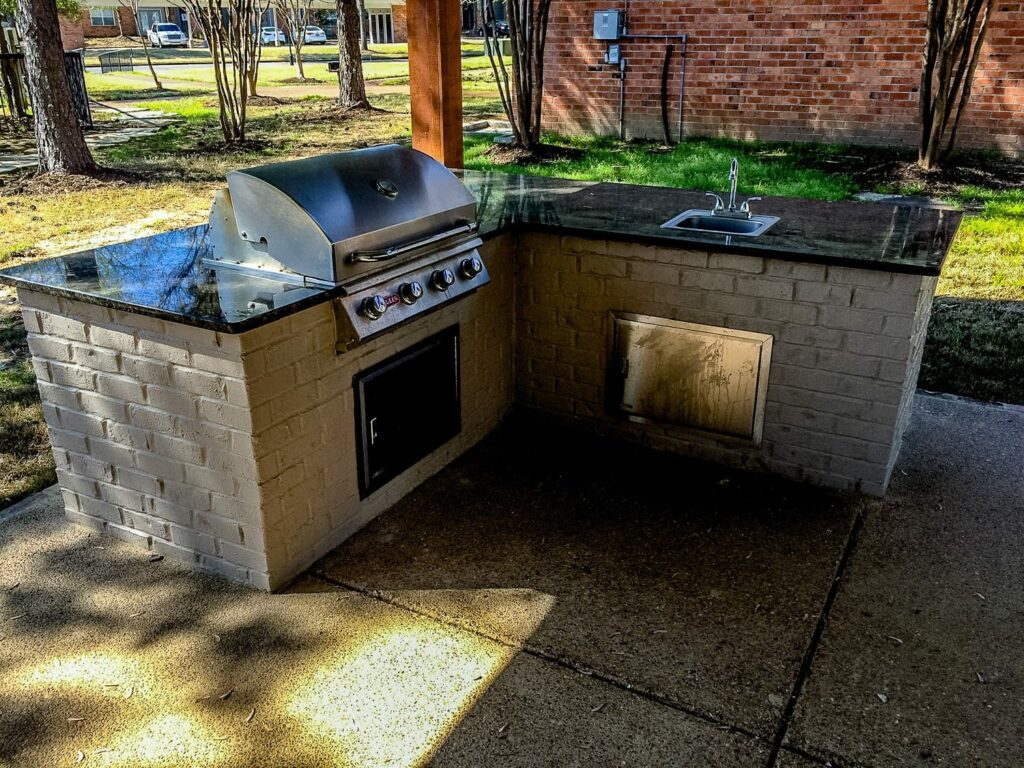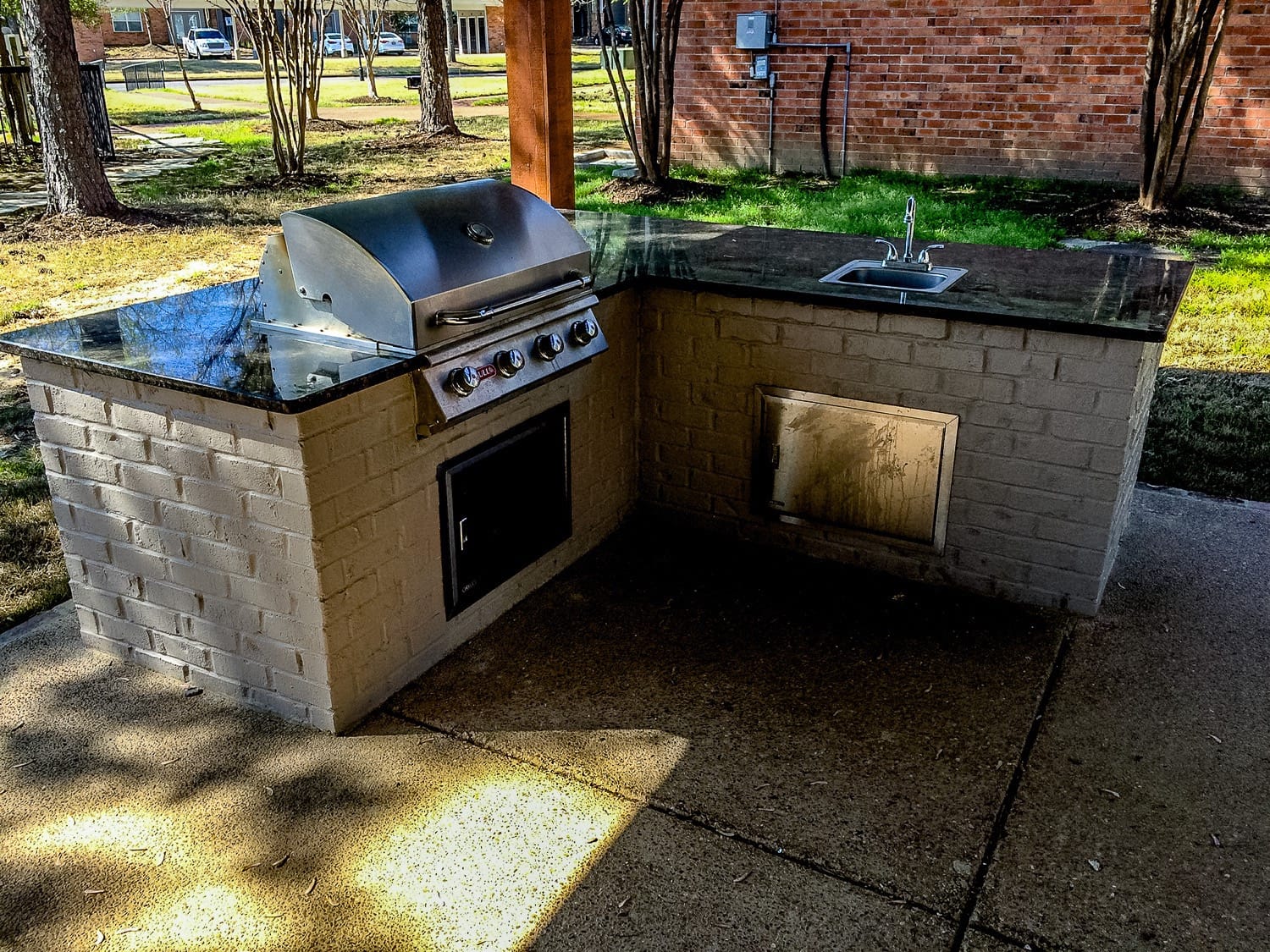 Accessories for Comfort and Ambiance
Perhaps the most obvious thing in this category would be an accommodating patio table with comfy and stylish seats for you and your guests to enjoy your meal. Like having wine with your meal or an after-dinner drink? Consider adding a bar and wine cooler to your outdoor kitchen area.
Comfort goes beyond supportive chairs. For those humid summers, add a fan to your cooking or dining area. An awning or pergola can also provide some relief from the heat. For cool spring and fall weather, an outdoor fireplace or patio heater is a nice, cozy touch. Plus, they also extend your outdoor season!
For some final touches, add some potted or hanging plants, lighting (both for safety and ambiance), and an audio / video system to watch the game or listen to music while also creating a relaxing atmosphere for guests.
No matter what you choose to add to your own, it's easy to create a one-of-a-kind yet fully functional outdoor kitchen space that suits all of your wants and needs.
Incredible Outdoor Kitchen Design Ideas
Whether you have a big space or a small one, want "the works" or to just desire to keep it simple, here are some ways to utilize the area you have and ideas to create the outdoor kitchen of your dreams.
Create a Poolside Oasis
If you have a pool, it's likely you already have seating nearby. Why not take it a step further by installing your kitchen close by as well? The pool party can continue all day long! 
Use It As the Focal Point of Your Backyard Living Space
Make your kitchen the centerpiece of your yard to really stand out. Bonus: Guests will know where to gather when they visit! 
Make Things Cozy Year Round
Include an outdoor fireplace and premium ceiling fan in the design. You can't beat the extra warmth and ambiance as you're eating and chatting on cool evenings and  you'll really appreciate the cool air on a hot summer afternoon. 
Make Sure There's Enough Room for Everyone
Add a bar and stools for extra seating as well as a gathering place for pre and post-dinner conversation. 
Ready to Make Your Outdoor Kitchen A Reality?
Whether you go for all the bells and whistles or keep it simple, outdoor kitchens are a great addition to add value to your home and help you make the most of your outdoor space.
Our team is available at no cost to provide an onsite design consultation. We'll meet you at your home, learn more about what you'd like to build, and then we'll provide a free estimate for your project. You can schedule a date and time for your free consultation here.